Welcome to the internet site for the coaching practice of Mario DiCioccio.
Mario is a coach and consultant who works with individuals that want to achieve more, enhance their leadership skills and / or better balance their lives.  Mario is also an educator who teaches coaching skills to candidates in the Master's in Organizational Development and Leadership program at St. Joseph's University.
Mario provides coaching and training to individuals and groups using experiential approaches to engage and motivate his clients. His approach is a blend of three key domains:
Best practices in coaching as continually refined through his work, his coaching continuing education classes and his teaching.
Models of human behavior as studied through the Gestalt Therapy model.
His many years as an organizational leader and consultant.
Mario was trained in coaching by the Coaches Training Institute and he is certified by the International Coach Federation (Professional Certified Coach) and the Coaches Training Institute (Certified Professional Co-active Coach).  He also received a certification in Gestalt Therapy from the Gestalt Therapy Institute of Philadelphia.
Prior to coaching, Mario was an executive at Merck & Co., Inc., a leader of various sized groups in large and mid-sized companies and a consultant at Peat Marwick (now KPMG).  His previous coaching experiences include teaching communication skills to MBA and EMBA candidates at Wharton.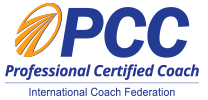 © Mario DiCioccio, 2002 – 2017, All Rights Reserved